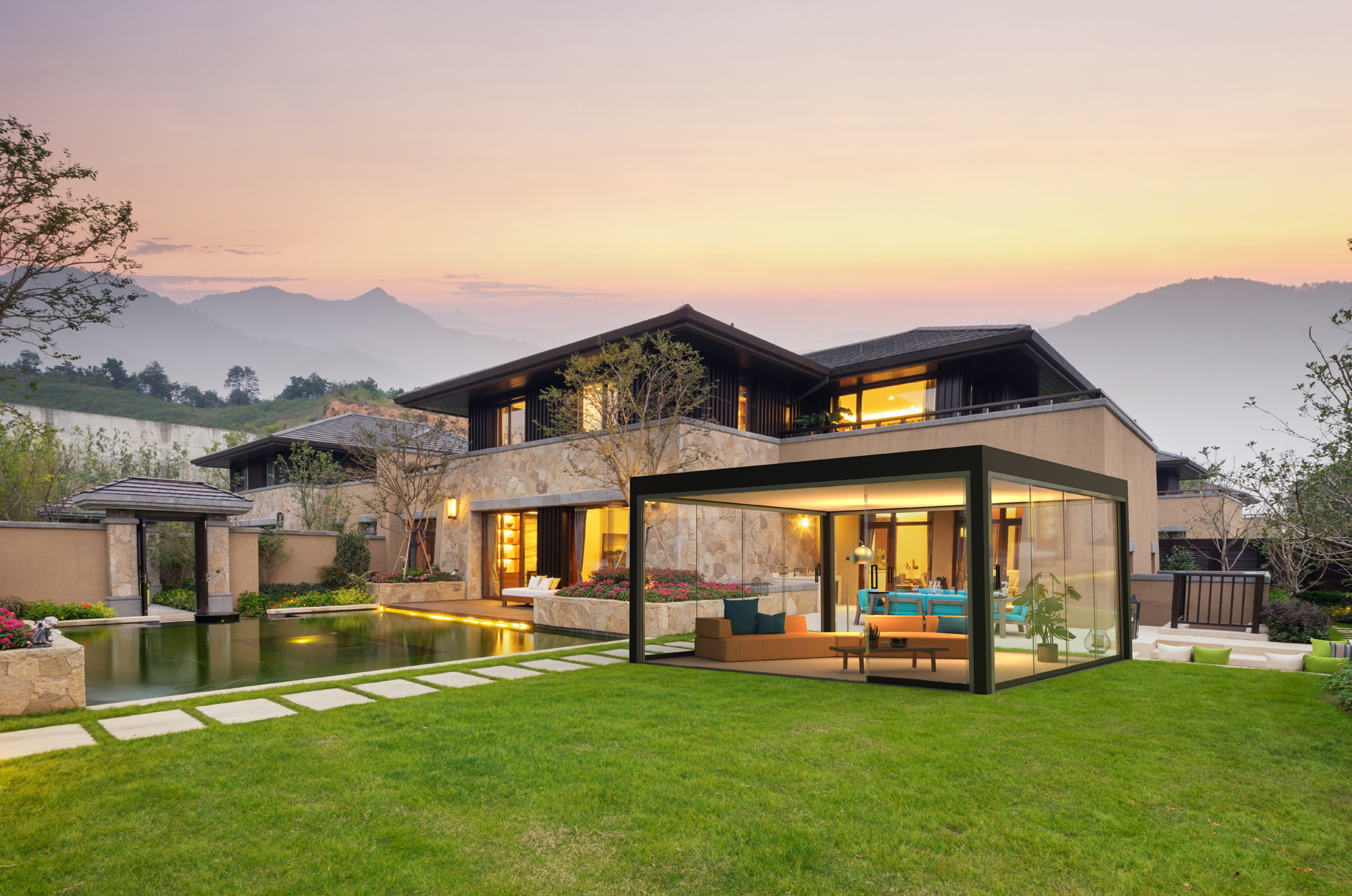 Eco-Friendly Pergola Design
Eclectic is a pergola with a false ceiling equipped with a membrane and panels to reflect sound waves. The roof is suitable for the installation of solar panels that produce energy from renewable sources.  Eclectic Pergola is designed to help meet the demand for ecological solutions, as well as the requirement for all-around comfort that satisfies all senses, from acoustics to visuals.
Solar Pergola: Form and Function
Capture the sun and relax! Enjoy a beautifully sheltered area for entertaining, a carport with charging power, or simply for outdoor relaxation that also serves as a racking system for solar panels. Eclectic Pergola incorporates ecological design with a roof suitable for a traditional roof-mounted panel system. Its minimalistic structure enables full enjoyment of your outdoor environment, with virtually unobstructed views. Choose a full glass enclosure or opt for an open cabana-style.
Modern Pergola Options to Suit Your Needs
Eclectic comes in a variety of warm colors. Its matte finish, painted with high-resistance epoxy powder, improves the product's quality and durability.  The structure can be complemented with several accessories, such as sliding edging profiles with PVC or glass membranes, decorative drapes, and telescopic and windshields made of glass. Choose freestanding or attach it to your existing building or home.
Structure Types
– Freestanding Structure
– Wall Mounted Structure
Materials
– Aluminum
– PVC
– Thermally Insulated
Ground Anchoring
– Internal Footing System
Structures Color Options
– White
– Dark Brown
– Dove Grey
*Custom RAL colors available upon request
**Smooth or Matte Textured Finish
Roof Materials and Colors
– White
– Ivory
– Protective Meshes
*More colors available upon request
Add-on Options include:
– Rain drainage
– Vok roller blind and sliding roller blind with a zipper (pages 36 – 39 GB price list)
– LED lighting
Features:
– Supporting Frame
– Frame Standard Colors *Other RAL custom colors available upon request.
– Roof Cover
– Possibility of Installation Photovoltaic Panels