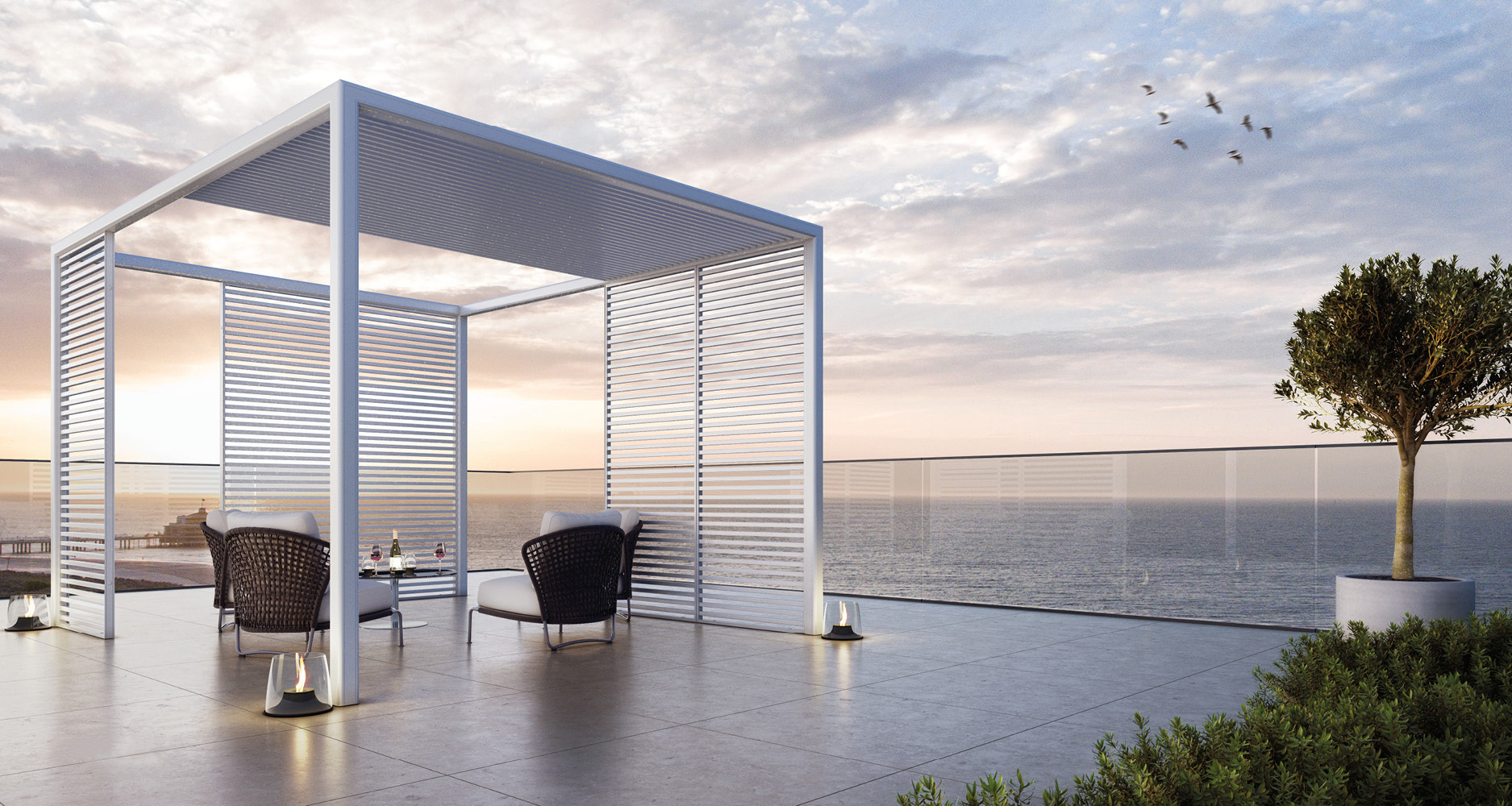 Pure pergolas are high quality, modular aluminum systems designed to create a unique range of outdoor living structures.  Modular and customizable pergolas will enhance any outdoor space and can be customized with a variety of finish options.  Pure outdoor living offers the ultimate outdoor structure for any hospitality or commercial outdoor environment.
The Pure range collection consists of two types of modular, aluminum outdoor units:  The Bay Collection and Box Collection.  A unit in the Bay Collection can be used as a free-standing structure or as a wall-mounted pergola with stylish options to close the sides and roof.
Units in the Box Collection are free-standing and can be finished with a floor of your choice.
Both collections are modular, meaning they offer several options and finishes that allow you to customize the units in countless ways.
Unit Options
– Box Unit
– Bay Unit
Unit Color Options
– White
– Black
– Dark Grey
– Grey
– Bronze
*Custom RAL colors available upon request
Wall Options
– Aluminum | Vertical | Fixed
– Aluminum | Horizontal | Fixed
– Wood| Horizontal | Fixed
Aluminum Wall Frame Color Options
– White
– Black
– Dark Grey
– Grey
– Bronze
*Custom RAL colors available upon request
Louvered Roof Options
– Aluminum | Vertical | Fixed
– Aluminum | Horizontal | Fixed
– Wood | Horizontal | Fixed
Aluminum Roof Frame Color Options
– White
– Black
– Dark Grey
– Grey
– Bronze
*Custom RAL colors available upon request
Wood Wall Frame Material
– Thermo Ayous
Accessories
– Floor (*Box Unit Only)
– LEDline – Integrated illuminated cover is a unique and special detail providing an elegant, finishing touch. The 24V LEDline backlit cover is available in Warm White and Cold White
Available Size
– 10 x 10
– 13 x 10
– 13 x 13
– 16.5 x 16.5
– 20 x 10
– 20 x 13
– 20 x 16.5
Pure Pergola Color Options