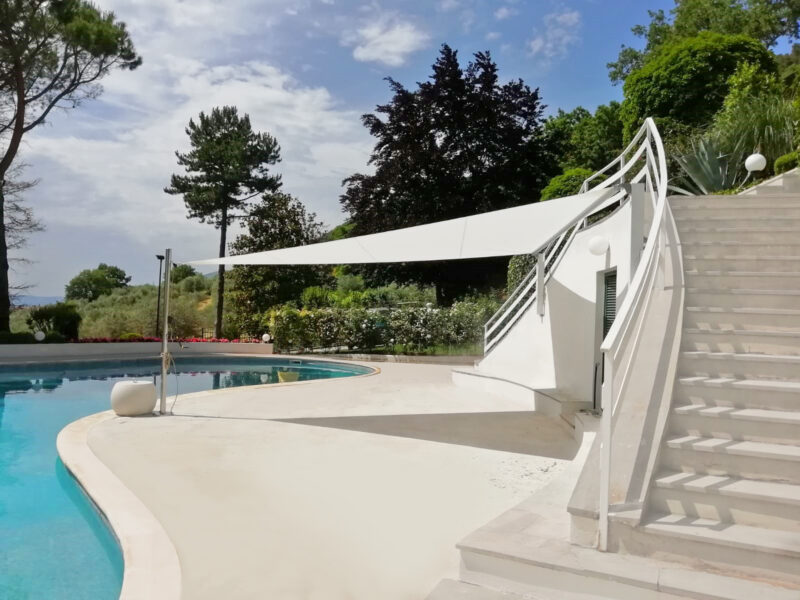 SAIL SHADE WALL MOUNTED
Velart is a wall-mounted sail that highlights spaces with its dynamic shape, suitable to gardens as well as HORECA (hotel/restaurant/cafe) spaces. Its design is inspired by sailing: the inclined pillar in stainless steel, the winch and the stopper used for the manual rewinding of the sail recall the technical features and the strength of the ropes used in sailing boats.
EASY TO USE SHADE SAIL
Velart has a spring-assisted rewinding system, enabling the manual opening and closure of the sail. The structure can be installed anywhere in a very short time. There is no need to prepare a foundation for the elegant canopy, thanks to a ballast in attractive white stone grit.
SUN SAIL CANOPY
Velart is a commercial-grade shade system that perfectly balances contemporary design with the traditional need for premium outdoor shelter. Velart sail shade creates a welcoming space for events, parties, and other outdoor gatherings while sheltering guests from UV rays and inclement weather.
Type
– Shade sail for the garden
Supporting Structure
– Sun shade sail with aluminum profiles and stainless steel components
– Double triangular PVC outdoor shade sail with hand-operated spring roll out system
– Stainless steel feet
Ground Anchoring
– Welded Plate Ground Anchors: The frame of the patio shade sail can be fastened to the ground without foundations by means of galvanized steel plates and comfortable seats in a granite aggregate.
Materials
– Aluminum
– Stainless Steel
– Dacron
Structure's Versions
– Tensioning system attached to the wall
– Upright, foot and wall mounted brackets are made out of a matt stainless steel
Structure's Colors
– Brushed stainless steel AISI 316 (smooth or mat textured finish)
Roof Materials & Colors
– White
– Beige
– Dacron
– RAL colors available upon request
– more colors available upon request
Options
– Ground anchors: The frame of the patio shade can be fastened to the ground without foundations by means of galvanized steel pallets and comfortable seats in a granite aggregate
PDF Brochure
Materials & Color Options