ConfigurationsFeaturesVideosOptionsColorsGalleryDownloads ConfigurationsFeaturesVideosOptionsColorsGalleryDownloads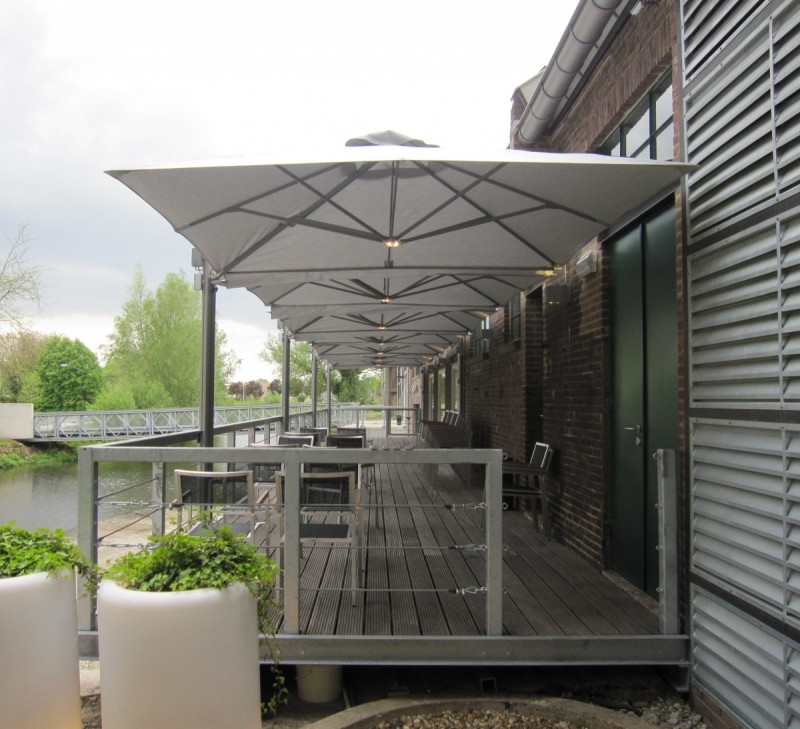 Download PDF Brochure Our P6 Square umbrellas combine up to four cantilever umbrellas on a single pole, giving sunshade coverage of up to 400 square feet without taking up much foot space. A complete terrace can be covered and up to 26 people can dine under a single P6 Quattro configuration.
All of our P6 Square umbrella systems feature extruded aluminum and our patented One-Move™ gas spring mechanism which effortlessly lifts and lowers the umbrella.
Dickson Sunbrella™ fabric is included in standard colors, shown below. Custom colors are also available for an upcharge. Dickson Sunbrella™ fabric is 100% solution dyed, fade resistant, waterproof, breathable and resists stains and mildew. UPF 50+ filters more than 97% of the UV rays. Both the umbrella frame and fabric have a five year limited warranty and are available with a full range of options and colors, to meet your shade requirements.
C O N F I G U R A T I O N S
[wonderplugin_gridgallery id=29]
F E A T U R E S
Every P6 Square umbrella system features:
Powdercoated aluminum finish.
Patented One Move™ Gas Spring System for effortless lifting and lowering.
Withstands winds up to 27 MPH.
Freestanding, wall mount or in-ground mounting.
Sizes: 8′ x 8′ or 10′ x 10′ available in mutiple configurations.
Ideal for: balconies, bars/restaurants, bistros, boutiques, snack bars, sidewalk cafes, cantinas, coffee shops, courtyards, eateries, decks, outdoor dining areas, outdoor living areas, hotels, gardens, outdoor music venues, markets, mezzanines, parks, patios, picnic areas, piers, playgrounds, pools, porches, promenades, parks, plazas, pubs, public spaces, restaurants, recreational areas, residential homes, resorts, retail shops, rooftops, shopping malls, spas, special events, stores, street-side venues, taverns, terraces, theaters, verandas, wedding venues, and large back yards.
V I D E O S
[wonderplugin_gridgallery id=25]
O P T I O N S
[wonderplugin_gridgallery id=30]
S T A N D A R D   C O L O R S

(UPF 50+ filters 100% UV)
[wonderplugin_gridgallery id=40]
G A L L E R Y
[wonderplugin_gridgallery id=32]
D O W N L O A D S
 Saule Umbrella Brochure
 Steel Umbrella Base Info
 Umbrella Ground Anchor Info
 Umbrella Floorplate Info